bicycle
Cyclers can enjoy discovery routes along our combs, but also some more technical paths with pass roads to ride!
Tours in between 20 and 80 km are possible.
Some tour ideas are offered thanks to websites or topographical guides, such as:
Les Grandes Traversées du Jura à vélo
Here are some ideas of cycle hiking in the Oh! Jura:
Escapade dans le Haut Jura (run away in the Haut Jura)
This quite competitive tour will reveal the natural resources and ancestral know-hows deep into the Natural Regional Park of the Haut Jura.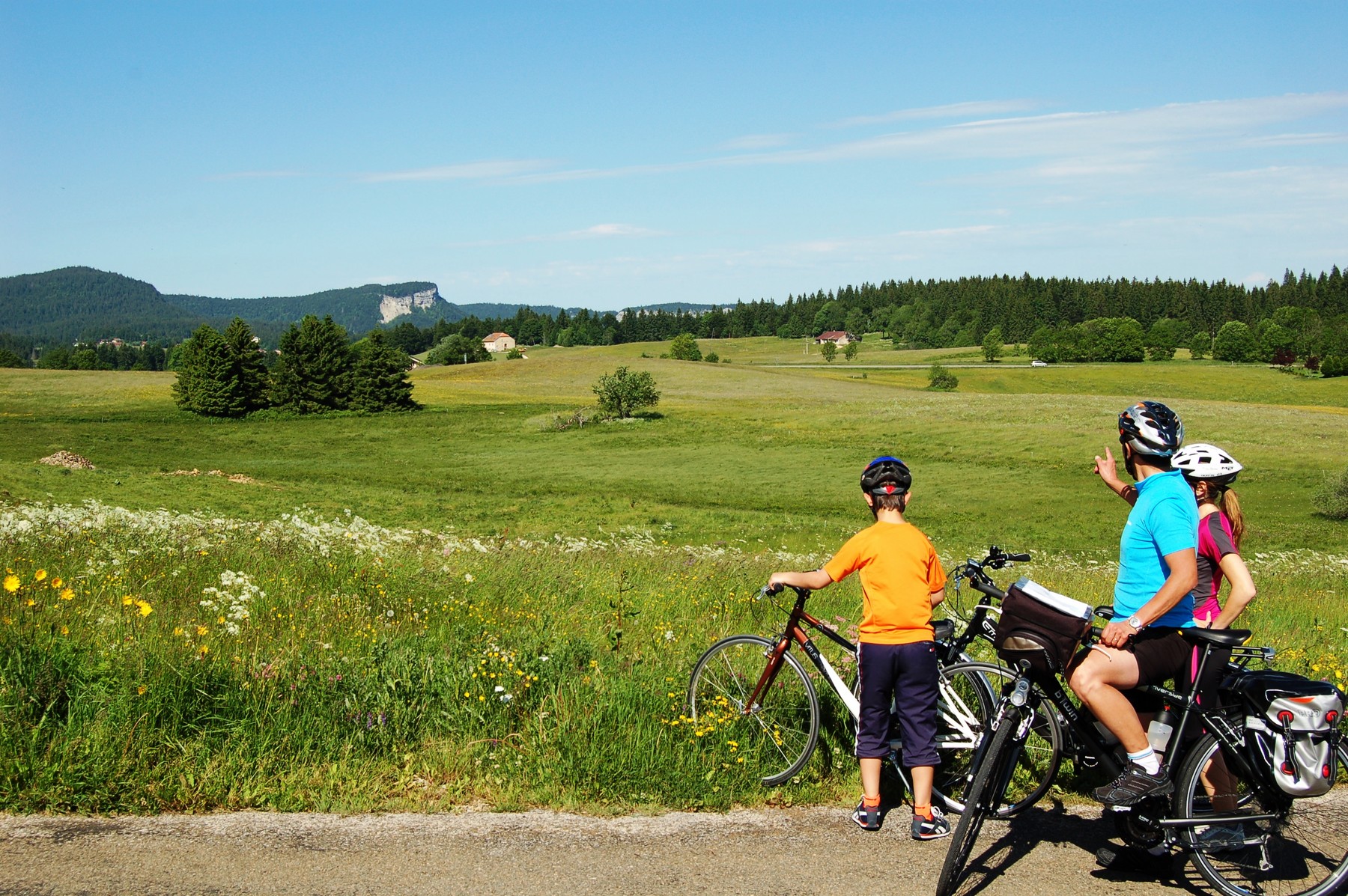 Length: 119.702km
Starting point: Les Rousses Ending point: Les Rousses
Height difference: +1966m Height difference: -1967m
Lowest Altitude: 435m Highest Altitude: 1227m

Key points:
"La Combe du Lac": in winter, meeting point of thousands of skiers from all over the world to take part in the mythical "Transjurassienne", popular cross country ski race of 76km.
"Saint Claude": city of History and ancestral know-hows, "Saint Claude" will seduce you with its Pipe and Diamond museum or its Abbey museum.
"Traversée du Grandvaux": in between lakes and mountains, the "Grandvaux" villages will reveal their natural heritage made of combs, lakes, forests, pastures as well as a rich cultural heritage of more than 1600 years of history.
"Départementale 126": this road used to be the main link between "Morez" and "Saint Claude" in the valley of "La Bienne". Nowadays, the road is closed to car traffic on weekends to allow cycle bikers and walkers to enjoy this path in a natural environment while running along the "swallow line/railway" and the river "Bienne".
"Morez": among craft and industry, the inhabitants of "Morez" were able to develop complementary know-hows among metal work culture. The "Musée de la Lunette" (Glasses Museum) and "La Maison de l'Email" (the Enamel House) are good testimonies of this wealth throughout permanent exhibitions and discovery classes.
"Côte de Prémanon": starting from "Morez", the slope of "Prémanon" leads you to "Les Rousses" ski resort. This uphill road, made of different curves, offers an average height difference percentage among the hardest possible and along 8km. More information!
Escape yourself in the Oh! Jura and feel the magic of wide open spaces! On a 21 km loop tour, perfect for the amateur cycle biker or beginner who likes to combine sport and discovery, you will be seduced by this itinerary.
Length: 21.156km
Starting point: Morbier - Ending point: Morbier
Difference in height: +353m - Difference in height: - 358m
Lowest altitude: 801m - Highest altitude: 1113m
Key points:
"Morbier": starting point of the tour, "Morbier" is above all known for its famous cheese with a black line in the middle and named after the village. For the most found of cheese, the dairy located in "Lieu dit Les Marais" will offer free tasting…
"La Combe de Morbier": going uphill on the small "départementale" road leading to "Chapelle-Des-Bois", you will cross fairy combs and forests. During the winter, covered with snow, these natural landscapes transform into a skiing place!
"Lacs de Bellefontaine": protected site "Natura 2000" both lakes of "Bellefontaine" and "Les Mortes" represent a very valuable ecological landscape with the typical flora from bog.
"Bellefontaine": authentical little village with big diversity where know-hows and traditions can go on thanks to "La Taillerie" and the Comtoise clocks manufacture. A little bit further, at the exit of the village, you will pass the "Signaux Girod" company which is known worldwide for its 100 year old know-how in road signs!
LES GRANDES TRAVERSEES DU JURA
Thanks to the Grandes Traversées du Jura (on bicycle or mountain bike), cyclers will have the opportunity to travel the roads and paths of the Jura and thus discover peaks, lakes and typical landscapes all year long.
The Mountain Bike Great Crossing of the Jura is far more than a "classical" path; it has been the first one to exist in France. It needs good physical condition but is also a great introduction to the sport thanks to smoother parts, allowing crossing the mountain while staying on the peaks, avoiding big height differences.
The full track is 380km long, from "Mandeure" in the "département du Doubs" to "Hauteville-Lompnes" in the "département de l'Ain". In our area, this path follows the Pedestrian Great Crossing of the Jura, arriving close to the Lakes all the way to the village of Bellefontaine and then cross the "Risoux" forest to reach "Les Rousses".
Possibility of catering and housing on your way, in the "Gîte chez L'Aimé" or at "La Chaumière" or "L'Epicéa" in Bellefontaine.
The Cycle Great Crossing of the Jura runs along the Jura mountain, starting in "Montbéliard" and stopping 360km further in Culoz ("Ain département"). This path is changeable as much as you want. Its 10 sections lay out is adjustable to everyone according to their choice of leisure or physical effort. All along the way, you will find many train stations, allowing organizing your journey and going back to your starting point by train or even modify your plan while travelling if you want.
This Great Crossing is mostly on open ways and avoids main roads. In our area, you will arrive on the D18 road from "Bellefontaine" to "Morez" and then the D69 to reach "Longchaumois" and finally "Lamoura" via "Rosset".
Many catering and housing possibilities on this part!
Things to know: the Cycle Great Crossing of the Jura is accessible from April to October. On the field, its green and white waymarked signs are in the middle of the road signs.
The advice of the Tourism Office: 130 housing sites are associated to offer you a quality welcome and a friendly moment. Find them all in the housing guide of the "GTJ", free and available on the association website.